---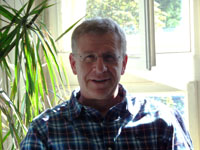 Paolo Budroni
Vienna University, University Library and Archive Services
Head of Project Phaidra (Permanent Hosting Archiving and Indexing of Digital Resources and Assets)
E-mail: paolo.budroni@univie.ac.at
Biography
Paolo Budroni, started working at the University of Vienna (Centre for Scientific Documentation) in 1991. Since 2005 he has been working at the University Library and Archive Services. He graduated with a PhD. in 1986, specialized in Foreign Trade at Vienna University of Business and Economics in 1988, and in 1997, he earned a Postgraduate Degree in European Integration for Public Administration. During a sabbatical over several years, he worked as a lecturer in marketing at the University of Perugia in Communication Sciences, Master Studies (Università degli Studi di Perugia, Scienze della Comunicazione, Master Studies) and as the Director of Marketing and Strategic Business Development Manager for a German telecommunications company. At the present time he is the Managing Director of Phaidra (Permanent Hosting, Archiving and Indexing of Digital Resources and Assets), a digital asset Management System with long-term archiving functionalities.
Link: www.phaidra.org
---
Biography
Marian Lefferts, is the Executive Manager of the Consortium of European Research Libraries. CERL promotes cultural heritage in print and manuscript, for example by hosting and maintaining the Heritage of the Printed Book database (HPB), the CERL Thesaurus, the CERL Portal and the Material Evidence in Incunabula database. CERL also (co-organises) events, publishes on provenance, and promotes the use of standards. This year CERL celebrates its 20th anniversary (for more details see www.cerl.org). CERL and LIBER are jointly responsible for the LIBER Forum for Digital Cultural Heritage, Marian support Claudia Fabian (BSB) in her position as Chairman of this Forum.
---

Adelheid Mayer
University of Vienna, University Library and Archive Services
Innovationmanager
E-mail: adelheid.mayer@unvie.ac.at
Biography
Adelheid Mayer studied history, social and cultural anthropology, sociology and communication at the University of Vienna. In 1994 she started working at the University Library and Archive Services as cataloger and later as systems librarian. From 1999 to 2012 she has been head of library systems. Since 2012 she is in charge of ubw:innovation. Besides she is the library's contact person for questions of digital long term preservation and project management.
---
Marcel Ras
Program manager of the Netherlands Coalition for Digital Preservation (NCDD)

Biography
Marcel Ras is Programme Manager for the Netherlands Coalition for Digital Preservation (NCDD). The coalition was established in 2008 to promote the usability of digital resources in the long term. As a program manager Marcel is responsible for the activities of the NCDD. Marcel has a long-time involvement in digital preservation. He was responsible for the development of the international e-journals archiving programme of the national library of The Netherlands (KB). Until September 2011 he was head of the e-Depot Department of the national library of The Netherlands (KB) and in this function responsible for the e-Depot operations. He received his M.A. degree from Nijmegen University in the fields of Ancient History and Archaeology in 1992. After some of years of Archaeological field survey in different countries, he joined the Post-Graduate training on Historical Information processing at Leiden University as Head and teacher of the training school. From 1999 to 2005 he worked as a consultant for the Digital Heritage Association and was involved in many digitization- and standardisation projects in The Netherlands. As of 2005 Marcel works for the national library of the Netherlands, first as project manager Web Archiving, and since 2007 as manager of the e-Depot department.
---

Pamela Stückler
Vienna University Library and Archive Services
Public Relations, Events and Valuable Holdings, EOD Service
E-mail: pamela.stueckler@univie.ac.at
Biography
Pamela Stückler has been head of the Public Relations and Events Department of Vienna University Library and Archive Services since 2008. Besides she coordinates the EOD (E-books on demand) service and is in charge of the Old and Rare Books Department of the Main library of VUL. She graduated in German language and literature as well as in theatre studies.
---